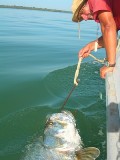 SPORT FISHING
The Gambia - West Africa Welcome to African Angling
African Angling offers professional & affordable
Fishing Trips specialising in
Sport Fishing Boat Charters & guided Fishing 'Xpeditions

The HOME of SPORT FISHING in THE GAMBIA

The Gambia is a very popular sport fishing holiday destination & boasts an extensive variety of fish species the saltwater angler has come to enjoy.

Whether you will be chartering a boat to target the giant tarpon in the river estuary, sport fishing on the Atlantic inshore reefs & sandbars, light tackle sport fishing in the beautiful & calm waters of the creeks & bolongs, or spending the day on the beach shore angling along some of Gambia's beautiful unspoilt coastline - African Angling will help you get the most out of your 'Gambia Fishing' adventure.
With extensive knowledge in the sport fishing field we can offer you a unique insight into one of the best angling environments in West Africa.
If you are an adventurous & imaginative Angler & enjoy the excitement of fishing abroad in countries who also provide a cultural and colourful experience then we invite you to share our passion!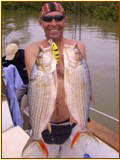 Join us & become an 'African Angler' and sample the great sport fishing opportunities The Gambia has to offer!


Tight Lines.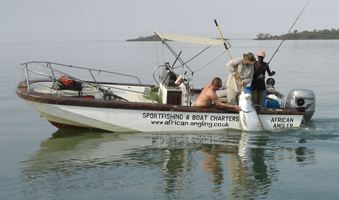 Your all-year-round fishing holiday destination!

Contact us
We are happy to answer all of your questions

Email: Info@african-angling.co.uk

We hope you find our web-site both informative and help



----------------------------------------------------------------

Sport Fishing & Boat Charters - Fishing Holidays in The Gambia - Sea Fishing - Barracuda, Tarpon, Snappers, Captain Fish, (Threadfin Salmon), Rays, African Pompano, Jacks, Ladyfish, Grouper, Guinean Barracuda, Butterfish, Spanish Mackerel, Cassava Croaker, Nine-Bone, fresh water Tigerfish plus many other localised species.
Featured Articles written by John Wilson, T.V. Angling Presenter of the 'Go Fishing' Series
Gambia Fishing Guide - written by Mark Longster
'YouTube' Gambia Fishing Videos - World Record Fish IGFA



African Angler
Sport Fishing
in The Gambia



Fishing in The Gambia - What's Available
General Descriptions

TARPON FISHING
Fish for giant Atlantic Tarpon in The Gambia river estuary..........Read More




REEF FISHING
Sport Fishing on the inshore reefs & sandbars.................................................Read More


CREEK FISHING
Light tackle species fishing in the oyster mangrove creeks.................Read More




SHORE ANGLING
Shore Angling Safariís along Gambiaís unspoilt coastline.................Read More




THE BOAT- Skippers - Location


Our Boston Whaler boat will get you to all major fishing grounds within 30 mins.......................................Read More




RECENT CATCHES - New
Take a look at what our Angler's have
been reeling in ...................Take a Look












FISHING HOLIDAY PACKAGES


FISHING HOLIDAY Package


3 day's sport fishing with 7 nts accommodation at the Ngala Lodge.. ..................................................Read More



AFRICAN ANGLING has extensive knowledge of fishing in the TERRITORIAL WATERS OF THE GAMBIA, stretching over 20 years. Based on our experience and having guided anglers from all over the world, we have tailor-made fishing trips to suit the requirements of the fishermen who want to sample the best range of fishing THE GAMBIA has to offer !

------------------------------------------------------------------


River Estuary and Coastal Fishing

The warm tropical waters of the Atlantic Ocean blend together with the River estuary and coastal waters of THE GAMBIA bringing with them some exciting fishing opportunities!

Shoals of BARRACUDA and JACKS make for some great trolling and lure fishing. Added to by the varied bait fishing at anchor on the INSHORE REEFS and SAND BANKS, fishing for SNAPPER, CASSAVA, LADY FISH, CAPTAIN FISH and LARGE STING RAYS, makes for the best day's fishing for variety of species and fishing methods.

Pods of TARPON also move into the inshore waters and can be targeted during the summer months and also during the winter months in the River Mouth using a variety of methods including live baits, lures and fly! Their hard fighting aerobatics make these a top catch for Anglers.

Daily Boat Charter Price (sole use of boat) - £150




-------------------------------------------------------

All Fishing trips run daily throughout the year and can be booked on a daily basis in advance or in resort.

All fishing trips are Inc. of all fishing tackle & equipment, baits, guide, mineral water.


Email for availability